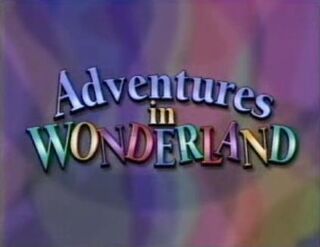 Adventures in Wonderland
is a live-action musical television series based on Walt Disney's animated classic
Alice in Wonderland
. In the series, Alice (played by Elisabeth Harnois), was portrayed as a girl who can go to and from Wonderland simply by walking through her mirror (a reference to Wonderland's source material Lewis Carroll's
Through the Looking-Glass
).
The show originally ran from March 23, 1992[1]to 1995 (with reruns continuing until at least 1997) on The Disney Channel and on stations across the country. Like many Disney Channel original shows, Adventures in Wonderland was taped at Disney-MGM Studios at the Walt Disney World Resort in Lake Buena Vista, Florida, with two sound stages used exclusively for the show, but only for its first 40 episodes. Afterward, shooting was moved to Los Angeles, CA.
Walt Disney Studios Home Entertainment released three VHS tapes of certain episodes.
Cast
Elisabeth Harnois as Alice
John Robert Hoffman as the Mad Hatter
Reece Holland as the March Hare
Armelia McQueen as the Red Queen
Patrick Richwood as the White Rabbit
Harry Waters, Jr. as Tweedle Dee
Robert Barry Fleming as Tweedle Dum
Wesley Mann as the Caterpillar
Richard Kuhlman as the Cheshire Cat (voice)
John Lovelady as the Dormouse (voice)
Ken Page as the Walrus
Teri Garr as the Duchess
Awards
Daytime Emmy Awards
1992 – Outstanding Hairstyling – Richard Sabre and Tish Simpson (Won)
1994 – Outstanding Makeup – Ron Wild and Karen Stephens (Won)
1994 – Outstanding Writing in a Children's Series – Daryl Busby and Tom J. Astle (Won) (Tied with Sesame Street)
1995 – Outstanding Costume Design – Lois DeArmond (Won)
1996 – Outstanding Makeup – Karen Stephens and Ron Wild (Won)
1996 – Outstanding Directing in a Children's Series – Shelley Jensen, David Grossman and Gary Halvorson (Won)
Sources
Ad blocker interference detected!
Wikia is a free-to-use site that makes money from advertising. We have a modified experience for viewers using ad blockers

Wikia is not accessible if you've made further modifications. Remove the custom ad blocker rule(s) and the page will load as expected.