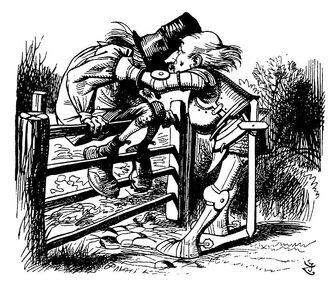 He only appears within the poem, Haddocks' Eyes that the White Knight recites to Alice in chapter VIII. According to the poem, the Knight met the Aged Man sitting atop a gate in a field and questioned him as to his profession. The Man responds with a long list of absurd occupations, including making waistcoat buttons from the eyes of haddocks and digging for buttered rolls.
The last stanza closes by describing him as:
"...that old man I used to know--
Whose look was mild, whose speech was slow
Whose hair was whiter than the snow,
Whose face was very like a crow,
With eyes, like cinders, all aglow,
Who seemed distracted with his woe,
Who rocked his body to and fro,
And muttered mumblingly and low,
As if his mouth were full of dough..."
The Aged Man represents the White Kings bishop.
Ad blocker interference detected!
Wikia is a free-to-use site that makes money from advertising. We have a modified experience for viewers using ad blockers

Wikia is not accessible if you've made further modifications. Remove the custom ad blocker rule(s) and the page will load as expected.