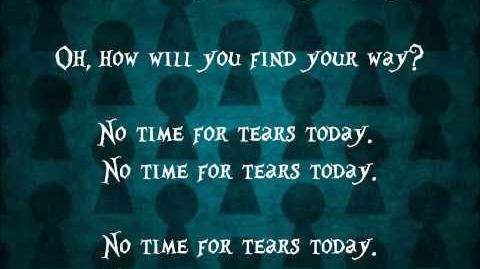 "Alice's Theme"
is a song written by Danny Elfman. It is the first song on the film scoreand an iTunes bonus track on the album Almost Alice, which features songs ispired by the
2010 film Alice in Wonderland
. "Alice's Theme" is also the only song from
Almost Alice
that is used in the film.
Lyrics
Oh, Alice, dear where have you been?
So near, so far or in between?
What have you heard what have you seen?
Alice, Alice, please, Alice!
Oh, tell us are you big or small
To try this one or try them all
It's such a long, long way to fall
Alice, Alice, oh, Alice
How can you know this way not that?
You choose the door you choose the path
Perhaps you should be coming back
Another day, another day
And nothing is quite what is seems
You're dreaming are you dreaming, oh, Alice?
(Oh, how will you find your way? Oh, how will you find your way?)
(There's not time for tears today. There's no time for tears today.)

So many doors... how did you choose
So much to gain so much to lose
So many things got in your way
No time today, no time today
Be careful not to lose your head
Just think of what the doormouse said... Alice!
Did someone pull you by the hand?
How many miles to Wonderland?
Please tell us so we'll understand
Alice... Alice... Oh, Alice
Ad blocker interference detected!
Wikia is a free-to-use site that makes money from advertising. We have a modified experience for viewers using ad blockers

Wikia is not accessible if you've made further modifications. Remove the custom ad blocker rule(s) and the page will load as expected.