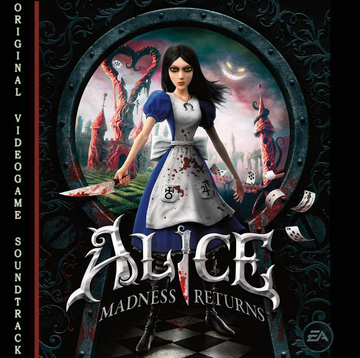 Alice: Madness Returns Original Soundtrack
refers to the musical score of American McGee's
Alice: Madness Returns
. The game features music composed and performed by Jason Tai and Marshall Crutcher. One of the tracks,
Wasteland
, was written and performed by Chris Vrenna, who composed the original soundtrack for
American McGee's Alice
.
The twenty-two piece score was released for purchase on May 17, 2011 by EA Recorings, under the title Alice: Madness Returns Original Videogame Soundtrack.
The full unofficial soundtrack with over one-hundred musical pieces was unofficially released as the Alice: Madness Returns Unreleased Original Soundtrack.
Tracklist 
Alice: Madness Returns Theme
Vale of Tears
Wasteland
Hatter
Madness
Jack Splatter
Sunken Crypt
Radcliffe's Fate
Jade
Shadown Scroll
Card Castles in the Sky
Queensland
The Asylum
Hyde Park
Fort Resistance
Dollhouses
Off With Her Head
Pulling Strings
Moorgate Station
Surreal
Into Londerland
Outro
Ad blocker interference detected!
Wikia is a free-to-use site that makes money from advertising. We have a modified experience for viewers using ad blockers

Wikia is not accessible if you've made further modifications. Remove the custom ad blocker rule(s) and the page will load as expected.