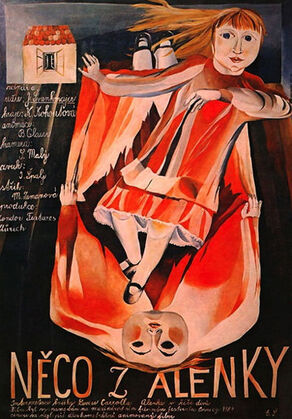 Alice
is a 1988 fantasy film written and directed by Jan Švankmajer. Its original Czech title is
Něco z Alenky
, which means "Something from Alice". It is a free adaptation of Lewis Carroll's first Alice book,
Alice's Adventures in Wonderland
(1865), about a girl who follows a white rabbit into a bizarre fantasy land. Alice is played by Kristýna Kohoutová. The film combines live action with stop motion animation, and is distinguished by its dark and uncompromising production design.
After more than two decades as a prolific director of short films, Alice became Švankmajer's first venture into feature-length filmmaking. The director had been disappointed by other adaptations of Carroll's book, which interpret it as a fairy tale. His aim was instead to make the story play out like an amoral dream. The film won the feature film award at the 1989 Annecy International Animated Film Festival.
Plot summary
Alice appears to be in her bedroom, when a taxidermically stuffed rabbit comes to life and breaks out of its glass case. Alice follows the rabbit through the drawer of a desk into a cavern. She subsequently falls through a bucket and seemingly down an elevator shaft. Wonderland itself is a mix of drab household-like areas with incongruous relationships of space and size. The Queen's execution sentences are carried out by the White Rabbit with a pair of scissors. At the film's end, Alice wakes in her room, discovers that the rabbit is still missing from his glass case, and finds a secret compartment where he keeps scissors. She ponders whether or not she will cut his head off. The film is ambiguous about whether this room is Alice's real world or "Wonderland".
Sources
Gallery
Ad blocker interference detected!
Wikia is a free-to-use site that makes money from advertising. We have a modified experience for viewers using ad blockers

Wikia is not accessible if you've made further modifications. Remove the custom ad blocker rule(s) and the page will load as expected.