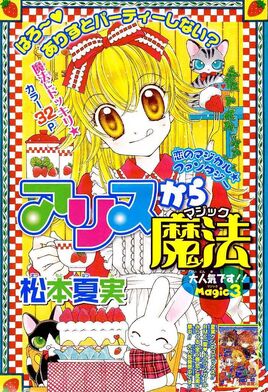 Alice Kara Mahou
is a 2006 anime wriiten by Matsumoto Natsumi.
Summary
Alice Asahina is a high school student interested in the Tarot, reading the future and fortune, and so on. One day there is a rain of meteors and a strange rabbit falls while she was watching the rain. The rabbit tells that the shooting stars are the precious jewels of his queen and can enter into the hearts of people, causing strange effects on its victims. Alice will be devoted to achieving these stars in the form of Alice in Wonderland.
Sources
Ad blocker interference detected!
Wikia is a free-to-use site that makes money from advertising. We have a modified experience for viewers using ad blockers

Wikia is not accessible if you've made further modifications. Remove the custom ad blocker rule(s) and the page will load as expected.