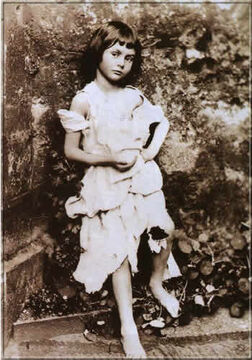 Alice Liddell
, born
Alice Pleasance Liddell
(
4 May 1852 – 16 November 1934
), the daughter of Henry George Liddell, friend of
Lewis Carroll
, was allegedly the inspiration for Alice in his novels
Alice's Adventures in Wonderland
and
Through the Looking-Glass, and What Alice Found There
.
Biography
Alice Liddell was the fourth child of Henry Liddell and his wife. She had two older brothers, Harry and Arthur, and an older siter Lorina. She also had six younger siblings, one of them was Edith. In Oxford the liddell household burnt to flames Dinah her beloved cat showed her out who was acused for the deaths Alice's  family Dr.Angus Bumby decided to help her took her to Dr.Angus Bumby's Houndsdich Home for Wayward Youth. he covered her with lies she was sent to the Rutledge Asylem: Home of Wayword and Lost Souls for being acused of murder twice and jail for the killing of  a Nurse from the Asylum the missing puzzel pieces came up to Dr. Angus Bumby who tried to make her forget tried to cover every bruise but made it worse making kids forget who they are and useing hypnotherapy brain washing to make the orphans they were hurt mentally for Dr.Bumby's slaves for a sexual purpose linked to all the other perverts and pedophiles he dint get to alice but tried she broke free with courage and the power of  WonderLand.
Later Life
Alice married Reginald Hargreaves at the age of 28 on September 15, 1880 and they had two sons named Alan Knyveton Hargreaves and Leopold Reginald "Rex" Hargreaves. Both of her sons were killed in action during World War I.
Inspiration for Alice in Wonderland
On the 4th of July 1862 in a rowing boat, the 10-year-old Alice asked Charles Dodgson (a.k.a Lewis Carroll) to entertain her and her sisters Edith and Lorina with a story. Dodgson told the girls stories about a girl named Alice and her adventures after she fell into a rabbit-hole. Liddell asked Dodgson to write it down for her, and he did so in a few months and eventually gave her the manuscript of Alice's Adventures Under Ground in 1864.
Dodgson had decided to rewrite the story for a commercial venture. He sent the manuscript to the author George MacDonald in 1863. He loved the story and his response persuaded Dodgson to seek a publisher. Alice's Adventures in Wonderland with John Tenniel's illustrations was published in the year 1865 under his pen name Lewis Carroll. The sequel, Through the Looking-Glass and What Alice Found There was published in 1871. The original manuscrip Dodgson had given to Liddell was published in 1886.
Sources
Gallery
Ad blocker interference detected!
Wikia is a free-to-use site that makes money from advertising. We have a modified experience for viewers using ad blockers

Wikia is not accessible if you've made further modifications. Remove the custom ad blocker rule(s) and the page will load as expected.