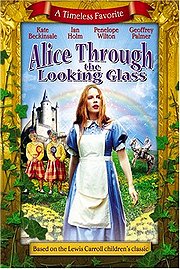 Alice Through the Looking Glass
is a 1987 Australian-Italian animated film nominally based on the novel
Through the Looking-Glass
by Lewis Carroll. It was directed by Andrea Bresciani and Richard Slapczynski from a screenplay by Jameson Brewer. The film's voice cast includes Janet Waldo as Alice, Mr. T. as the Jabberwock, Phyllis Diller as the White Queen, Jonathan Winters as Tweedledum and Tweedledee, and Alan Young as the White Knight. Much of the film consists of Alice and a jester named Tom Fool (Townsend Coleman) journeying through some of the incidents of the novel, while ultimately, the film is more about Alice finding an imaginary friend in Tom Fool than the novel's themes of logic, illogic, and reversal. The film also throws in Heffalumps, rock-throwing cavemen, Ed Sullivan, and The Marx Brothers (Hal Rayle). Humpty Dumpty (George Gobel) is a dinosaur egg, and as such, has fangs and a tail, which gives an example of how little interest in the book the filmmaker's had.
Sources
Ad blocker interference detected!
Wikia is a free-to-use site that makes money from advertising. We have a modified experience for viewers using ad blockers

Wikia is not accessible if you've made further modifications. Remove the custom ad blocker rule(s) and the page will load as expected.