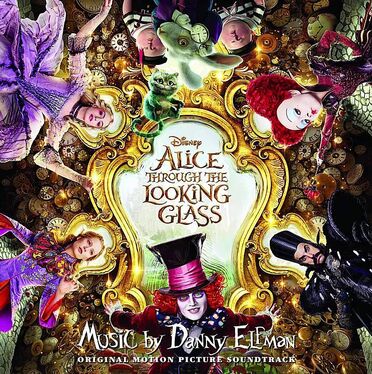 Alice Through the Looking Glass (Original Motion Picture Soundtrack)
is the soundtrack for the film
Alice Through the Looking Glass
.
Composition
All music composed by Danny Elfman.
Tracklist
Alice
Saving the Ship
Watching Time
Looking Glass
To the Rescue
Hatters House
The Red Queen
The Chronosphere
Warning Hightopps
Tea Time Forever
Oceans of Time
Hat Heartbreak
Asylum Escape
Hatter's Deathbed
Finding the Family
Time Is Up
World's End
Truth
Goodbye Alice
Kingsleigh & Kingsleigh
Seconds Song
Friends United
Time's Castle
The Seconds
Clock Shop
They're Alive
Story of Time
Just Like Fire (performed by Pink)
Ad blocker interference detected!
Wikia is a free-to-use site that makes money from advertising. We have a modified experience for viewers using ad blockers

Wikia is not accessible if you've made further modifications. Remove the custom ad blocker rule(s) and the page will load as expected.