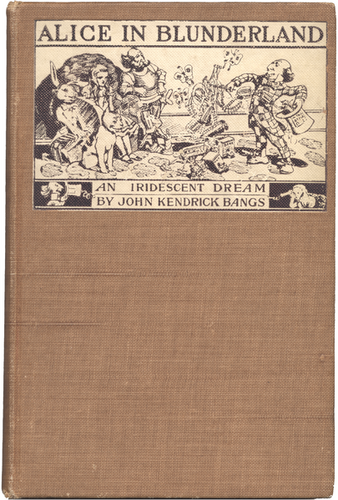 Alice in Blunderland: An Iridescent Dream
is a novel by John Kendrick Bangs, written in 1907 and published by Doubleday, Page & Co. of New York. It is a political parody of Lewis Carroll's two books,
Alice's Adventures in Wonderland
and
Through the Looking-Glass
.
It is critical of economic issues such as taxation, corporate greed, and corruption. Instead of entering Wonderland, Alice finds herself in "Blunderland", which is also described as "Municipal Ownership Country".
The book features line drawings after the originals by John Tenniel which were drawn by Albert Levering.
In 1902, Bangs had written a book inspired by Alice's Adventures in Wonderland, called Rollo in Emblemland.
Plot
Alice travels to Blunderland where nothing is supposed to be, children live in the Municipal House of the Children and the Duchess and the City are they parents. We find in this novel all the familiar characters made famous by Alice in Wonderland: the dormouse, the Mad Hatter, the Cheshire Cat and others.
Index
CHAPTER PAGE I Off to Blunderland 3
The Immovable Trolley 19
The Aromatic Gas Plant 37
The Cityowned Police 56
Wrote on the side of a convenient 57
Tea is served on every corner 64
The Municipaphone 73
Fined five dollars 83
The Department of Public Verse 92
Larger measure than was the custom 94
It runs this way your honour 101
VTI The Municipal Ownership of Children 108
When they think nobodys looking 116
Seizing her by the arm 122
Sources
Ad blocker interference detected!
Wikia is a free-to-use site that makes money from advertising. We have a modified experience for viewers using ad blockers

Wikia is not accessible if you've made further modifications. Remove the custom ad blocker rule(s) and the page will load as expected.