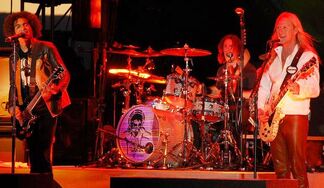 Alice in Chains
is an American rock band formed in Seattle, Washington, in 1987 by guitarist and songwriter Jerry Cantrell and original lead vocalist Layne Staley. The initial lineup was rounded out by drummer Sean Kinney, and bassist Mike Starr (who was replaced in 1993 by Mike Inez).
Although widely associated with grunge music, the band's sound incorporates heavy metal and acoustic elements. Since its formation, Alice in Chains has released five studio albums, three EPs, two live albums, four compilations, and two DVDs. The band is known for its distinct vocal style which often included the harmonized vocals of Staley and Cantrell.
Trivia
Ranked #34 on VH1's 100 Greatest Hard Rock Artists.
A grunge group from Seattle, Washington.
(As of 2008) Released three albums so far (not counting the "Sap" and "Jar of Flies" EPs). They now have a fourth album in the works, which will be their first album of new material since their 1995 self-titled album (also known as "Tripod"), and also their first release with new singer William DuVall, the replacement of the late Layne Staley.
Sources
Ad blocker interference detected!
Wikia is a free-to-use site that makes money from advertising. We have a modified experience for viewers using ad blockers

Wikia is not accessible if you've made further modifications. Remove the custom ad blocker rule(s) and the page will load as expected.