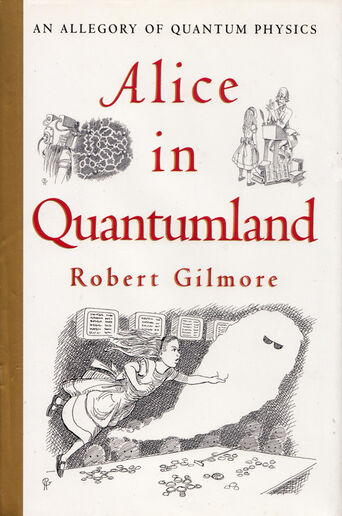 Alice in Quantumland: An Allegory of Quantum Physics, by Robert Gilmore, is an allegory of quantum mechanics told through the adventures of Alice's explorations of the world of modern physics, with quanta depicted as eccentric characters similar to those in Wonderland, and quantum laws as the nonsensical or counter-intuitive rules governing Carroll's world.
Synopsis
You've heard about Alice's adventures through the looking glass. Well, Alice is about to embark on another amazing journey. She's going to shrink again - to the size of a nuclear particle - but she's not going down the rabbit hole. She's headed for Quantumland. And what is Quantumland? Think of it as an intellectual amusement park smaller than an atom, where every ride, game, and attraction demonstrates a different aspect of quantum mechanics - the often baffling, always intriguing theoretical framework that seems to provide the most accurate explanations of the way things are in the physical world. In this masterful blend of fantasy and science, Robert Gilmore uses the allegory of Alice's travels to make the uncertainty principle, Pauli's principle, high-energy particle physics, and other crucial parts of quantum theory accessible and exciting.
Sources
Ad blocker interference detected!
Wikia is a free-to-use site that makes money from advertising. We have a modified experience for viewers using ad blockers

Wikia is not accessible if you've made further modifications. Remove the custom ad blocker rule(s) and the page will load as expected.