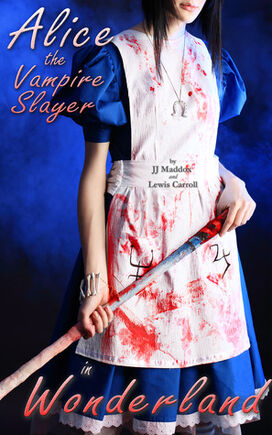 Alice in Wonderland: The Vampire Slayer is a book by J.J. Maddox.
Overview
From the time she was a small girl, Alice Graves has been groomed to be a vampire slayer. While other children learned to jump rope and recite their ABCs, Alice was schooled in the arts of staking, bloodletting, and decapitation.
It's a good thing, too, since she's just followed a giant vampire down a rabbit-hole, only to find herself plunged into a strange world ruled by an evil Blood Queen.
Welcome to Alice's Vampire Wonderland, where nothing is what it seems and all of her slayer's skills will be put to the test if she's to survive the treacherous hours between dusk and dawn.
Information
Edition language: English 
Ad blocker interference detected!
Wikia is a free-to-use site that makes money from advertising. We have a modified experience for viewers using ad blockers

Wikia is not accessible if you've made further modifications. Remove the custom ad blocker rule(s) and the page will load as expected.