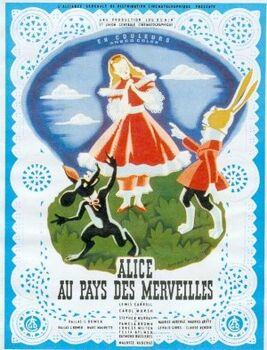 Alice in Wonderland
(French:
Alice au pays des merveilles
) is a 1949 French film based on Lewis Carroll's fantasy novel
Alice's Adventures in Wonderland
. Directed by Dallas Bower, the film stars Carol Marsh as Alice, Stephen Murray as Lewis Carroll, and Raymond Bussières as The Tailor. Most of the wonderland characters are portrayed by animated puppets created by Lou Bunin.
All of the other live actors in the film are seen only in the live action scenes. However, they lend their voices to the Wonderland characters, and the staging of the scenes in England vs. the scenes in Wonderland is reminiscent of the Kansas scenes vs. the Oz scenes in The Wizard of Oz, in that several of the live-action characters seem to have counterparts (of sorts) in Wonderland. Among the other live actors are Pamela Brown as the Queen and as the voice of the Queen of Hearts. Stephen Murray is seen as Lewis Carroll and provides the voice of the Knave of Hearts, and Felix Aylmer, who played Polonius in Olivier's Hamlet, plays Dr. Liddell, father of Alice Liddell, the real-life inspiration for Alice; he also provides the voice of the Cheshire Cat.
Carol Marsh was 20 years old when she played the part of Alice - conceived by the novel's author as 7 years old.
Sources
Gallery
Ad blocker interference detected!
Wikia is a free-to-use site that makes money from advertising. We have a modified experience for viewers using ad blockers

Wikia is not accessible if you've made further modifications. Remove the custom ad blocker rule(s) and the page will load as expected.