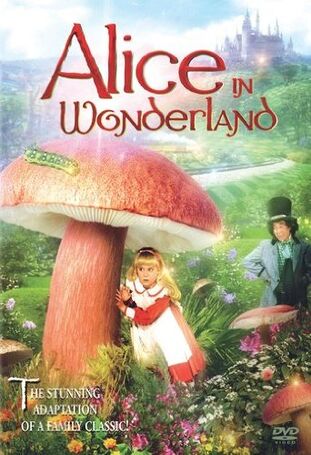 Alice in Wonderland
(1985) is a two-part film adaptation of Lewis Carroll's Alice books. An Irwin Allen production, it was a special made for television and used a huge all-star cast of notable actors and actresses. The title role was played by Natalie Gregory, who wore a blonde wig for this miniseries.
Alice in Wonderland
was first telecast December 9, 1985, (part one) and December 10, 1985 (part two), at 8:00pm EST on CBS.
It was filmed in Los Angeles at the MGM Studios (now known as Sony Pictures Studios) in Culver City over a 55-day period from March 12, 1985 to May 28 of that same year. Additional filming took place at Malibu Beach for the oysters scene, and establishing shots of Alice's house took place at the S. S. Hinds Estate, also in the Los Angeles area.
Sources
Gallery
Ad blocker interference detected!
Wikia is a free-to-use site that makes money from advertising. We have a modified experience for viewers using ad blockers

Wikia is not accessible if you've made further modifications. Remove the custom ad blocker rule(s) and the page will load as expected.