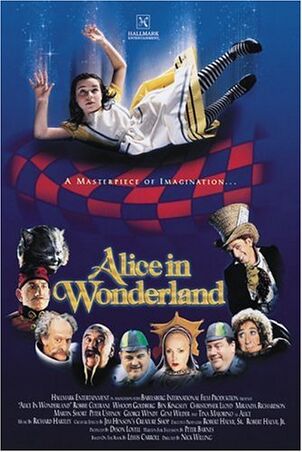 Alice in Wonderland
is a television film first broadcast in 1999 on NBC and then shown on British television on Channel 4. It is based upon Lewis Carroll's books
Alice's Adventures in Wonderland
and
Through the Looking-Glass
.
Tina Majorino played the lead role of Alice, and a number of well-known performers portrayed the eccentric characters whom Alice meets during the course of the story, including Ben Kingsley, Ken Dodd, Martin Short, Whoopi Goldberg, Peter Ustinov, Christopher Lloyd, Gene Wilder, and Miranda Richardson.
The film won four Emmy Awards in the categories of costume design, makeup, music composition, and visual effects.
The film was re-released as a special edition DVD on March 2, 2010, featuring an additional five minutes of footage.
Special effects
This movie was a mix of puppetry and live-action. The puppet designs were created by Jim Henson's Creature Shop. They are the Cheshire Cat, the Gryphon, the March Hare, the Dormouse, the pig baby, the flamingos, and the White Rabbit.
In all, 875 special digital effects were created for the film. An example is Martin Short's head; it was enlarged to three times its size to resemble the Hatter in Tenniel's illustrations. Another one is the large books. Both of these examples were done by computer effects and Jim Henson's Creature Shop.
Awards
Primetime Emmy Awards
1999 – Outstanding Costume Design for a Miniseries or a Movie – Charles Knode (Won)
1999 – Outstanding Makeup for a Miniseries, Movie or a Special – Anne Spiers, James Kell, Duncan Jarman and Sandra Shepherd (Won)
1999 – Outstanding Special Visual Effects for a Miniseries or a Movie – David Booth, Richard Conway, Bob Hollow, Andy Lomas, Alex Parkinson, Martin Parsons, Jamie Courtier, Avtar Bains, William Bartlett, Nick Bennett, Oliver Bersey, Murray Butler, George Roper, Pedro Sabrosa, Angus Wilson and Ben Cronin (Won)
1999 – Outstanding Music Composition for a Miniseries or a Movie (Dramatic Underscore) – Richard Hartley (Won)
Sources
Gallery
Ad blocker interference detected!
Wikia is a free-to-use site that makes money from advertising. We have a modified experience for viewers using ad blockers

Wikia is not accessible if you've made further modifications. Remove the custom ad blocker rule(s) and the page will load as expected.