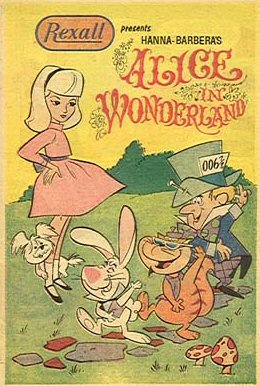 The New Alice in Wonderland
or
Alice in Wonderland or What's a Nice Kid Like You Doing in a Place Like This?
is a 1966 animated TV special which on air on ABC. It was produced by Hanna-Barbara and sponsored by Rexell Drugs and Coca Cola. It was written by Bill Dana who also voices The White Knight and features a well-known voice cast which included Zsa Zsa Gabor as the Queen of Hearts, Sammy Davis Jr as the Cheshire Cat, Harvey Korman as The Mad Hatter, Hedda Hopper as the Hatter's female counterpart, Hedda Hatter, and Alan Reed and Mel Blanc as Fred Flintstone and Barney Rubble as a two-headed Catepiller.
Ad blocker interference detected!
Wikia is a free-to-use site that makes money from advertising. We have a modified experience for viewers using ad blockers

Wikia is not accessible if you've made further modifications. Remove the custom ad blocker rule(s) and the page will load as expected.