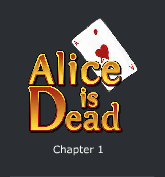 Alice Is Dead
is a tale that is based on the story written by lewis caroll in 1865. Just like
American Mcgee's version
, this version which is created by Impending Riot and Hyptosis has a much darker setting. For the world where it takes place contains much more evil and is way more twisted than the already twisted original.
This series appears as a point and click game. The protagonist of the series is the Rabbit instead of Alice.
Synopsis
The player wakes up not knowing who he is, just that Alice is Dead. He finds his way around through Wonderland Forest and eventually finds a briefcase in a tree. After unlocking it, he looks at the mirror inside and remembers who he is...he is The Rabbit, and someone in Wonderland wants him dead
Walkthrough
Grab the bone off of Alice's body, as well as the bottle nearby.
Get the note on Alice that says "Kill the Rabbit".
Collect the card in the trunk nearby.
Collect the stick and stone by the chest.
Combine the stone and bone to make a small pick.
Use that pick on the small door near Alice.
Enter the chest to Wonderland Forest.
Get the acid by using the bottle.
When you see the Caterpillar, use the stick on the honey nearby.
Break through the web with the acid, and it will leave a glass shard behind for you to combine with the honey stick.
Use your new spear to kill the caterpillar.
Get the bell, the monacle, and key off the caterpillar.
Use the monacle in the hole to see secret messages which include the code for the briefcase.
Use the keycard to open the door on the tree, and then the key.
Enter the code into the briefcase.
Secrets
It's really not much of a secret, but if you look up while you're in the hole, you can see the skies of The Above where Alice came from.
Sources
Ad blocker interference detected!
Wikia is a free-to-use site that makes money from advertising. We have a modified experience for viewers using ad blockers

Wikia is not accessible if you've made further modifications. Remove the custom ad blocker rule(s) and the page will load as expected.