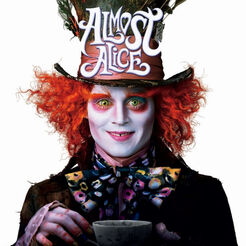 Almost Alice
is a collection of various artists' music inspired by the film.The lead single, "Alice" by Avril Lavigne, premiered on January 27, 2010 on Ryan Seacrest's radio program. Other singles include "Follow Me Down" by 3OH!3, "Her Name Is Alice" by Shinedown, and "Tea Party" by Kerli.The album was released on March 2, 2010.
Information
Almost Alice is a collection of various artists' music inspired by Tim Burton's film, Alice in Wonderland.The album is also notable for featuring songs that were inspired from quotes directly from Lewis Carroll's original novel Alice's Adventures in Wonderland. For example, both "The Lobster Quadrille" (by Franz Ferdinand) and "You Are Old, Father William" (by They Might Be Giants) are both word-for-word performances of poems from the original Alice as quoted by The Mock-Turtle (the former) and Alice herself to the Caterpillar (the latter). Furthermore, "Very Good Advice" by Robert Smith is a cover of Kathryn Beaumont's "Very Good Advice" from Disney's original animated version of Alice in Wonderland.
Tracklist
Ad blocker interference detected!
Wikia is a free-to-use site that makes money from advertising. We have a modified experience for viewers using ad blockers

Wikia is not accessible if you've made further modifications. Remove the custom ad blocker rule(s) and the page will load as expected.