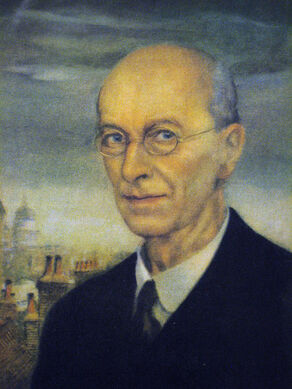 Arthur Rackham
(19 September 1867 – 6 September 1939) was an English book illustrator.
Biography
Rackham was born in London as one of 12 children. In 1884, at the age of 17, he was sent on an ocean voyage to Australia to improve his fragile health, accompanied by two Aunts. At the age of 18, he worked as a clerk at the Westminster Fire Office and began studying part-time at the Lambeth School of Art.
In 1892 he left his job and started working for The Westminster Budget as a reporter and illustrator. His first book illustrations were published in 1893 in To the Other Side by Thomas Rhodes, but his first serious commission was in 1894 for The Dolly Dialogues, the collected sketches of Anthony Hope, who later went on to write The Prisoner of Zenda. Book illustrating then became Rackham's career for the rest of his life.
In 1903 he married Edyth Starkie, with whom he had one daughter, Barbara, in 1908. Rackham won a gold medal at the Milan International Exhibition in 1906 and another one at the Barcelona International Exposition in 1912.His works were included in numerous exhibitions, including one at the Louvre in Paris in 1914. Arthur Rackham died in 1939 of cancer in his home in Limpsfield, Surrey.
Significance
Arthur Rackham is widely regarded as one of the leading illustrators from the 'Golden Age' of British book illustration which encompassed the years from 1900 until the start of the First World War. During that period, there was a strong market for high quality illustrated books that typically were given as Christmas gifts. Many of Rackham's books were produced in a de luxe limited edition, often vellum bound and sometimes signed, as well as a larger, less ornately bound quarto 'trade' edition. This was often followed by a more modestly presented octavo edition in subsequent years for particularly popular books. The onset of the war in 1914 curtailed the market for such quality books, and the public's taste for fantasy and fairies also declined in the 1920s.
Arthur Rackham's works have become very popular since his death, both in North America and Britain. His images have been widely used by the greeting card industry and many of his books are still in print or have been recently available in both paperback and hardback editions. His original drawings and paintings are keenly sought at the major international art auction houses.
Notable Works
Alice's Adventures in Wonderland by Lewis Carroll (13 colour plates, 15 line 1907)
The Sleeping Beauty ed. Charles S. Evans (1 colour plate, 65 silhouettes, 1920)
Fairy Tales of the Brothers Grimm (95 line, 1900, reworked edition 40 colour plates, 62 line, 1909)
Sources
Ad blocker interference detected!
Wikia is a free-to-use site that makes money from advertising. We have a modified experience for viewers using ad blockers

Wikia is not accessible if you've made further modifications. Remove the custom ad blocker rule(s) and the page will load as expected.