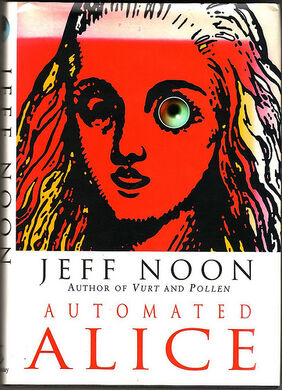 Automated Alice
is a fantasy novel by British author Jeff Noon, first published in 1996. The book follows Alice's travels to a future Manchester city populated by
Newmonians
,
Civil Serpents
and a vanishing cat.
The book was written as both the third book in the Vurt series and the "trequel" to the famous Lewis Carroll books, Alice's Adventures in Wonderland and Through the Looking-Glass.
Plot summary
The story of Automated Alice tells of the character of Alice from Lewis Carroll's books in a future version of Manchester, England. After following her Great Aunt Ermintrude's parrot Whippoorwill through a grandfather clock, Alice and Alice's doll Celia get lost in a world inhabited by Newmonians, entities made from two objects combined, for example a zebra and a human.
Sources
Ad blocker interference detected!
Wikia is a free-to-use site that makes money from advertising. We have a modified experience for viewers using ad blockers

Wikia is not accessible if you've made further modifications. Remove the custom ad blocker rule(s) and the page will load as expected.