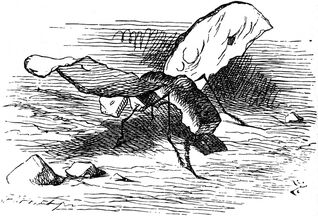 The Bread-and-Butterfly is an insect from
Through the Looking-Glass and What Alice Found There
. Its name and form is a pun on bread and butter. Its wings are thin slices of bread-and-butter, with a crust as its body and a lump of sugar as its head. It lives on weak tea with cream in it.
In the 1951 Disney movie, it appears as a butterfly that has wings of bread with butter spread on them.
Ad blocker interference detected!
Wikia is a free-to-use site that makes money from advertising. We have a modified experience for viewers using ad blockers

Wikia is not accessible if you've made further modifications. Remove the custom ad blocker rule(s) and the page will load as expected.