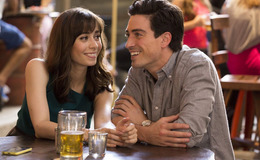 C is for Curiouser and Curiouser
is an episode of A to Z.
Synopsis
Zelda and Andrew do some online snooping and end up uncovering secrets they wish they hadn't.
Plot
Stephie demonstrates an app for rating ex-boyfriends, determined not to be surprised by her next suitor. Andrew reveals that Wallflower's research has determined that knowing too much about someone before beginning to date is actually harmful to the development of a healthy relationship. Zelda, hearing Stephie's point of view, does some online research about Andrew. Hours later, she finds dashboard camera footage of Andrew being arrested outside an Oakland Raiders game. Although outraged, she gives him a chance to mention it, but he fails to do so. She lashes out at him hiding his arrest. He explains that it was 10 years ago and the cops had it out for him. She still feels hurt and misled. Back at Wallflower, CEO Lydia begins snooping on her staff via their computer webcams. She is appalled to learn they call her "Big Bird". Howard explain that Big Bird is a high-ranking member of the Sesame Street hierarchy. She embraces the term as an honorific. Meanwhile, Dinesh and Lora leave Andrew a USB flash drive with Zelda's Wallflower profile and a few other secrets on it. Andrew cannot help but take a peek. Zelda later apologizes for invading his privacy and his trust. He confesses to perusing her profile, but found nothing. She blurts out that she was once married. She quickly explains about Gustav, a fellow law student whose student visa was expiring. She married him so he stay and practice law. She assures Andrew that it was strictly platonic and she divorced Gustav the day he received his citizenship. She and Andrew agree to not keep secrets from one another. However, her revelation has set off a jealous curiosity in him. He Googles Gustav, now a handsome successful Swedish lawyer. Andrew begins stalking him. He later sees Gustav is joined at his lunch by Zelda. Andrew sneaks to better hear and see them, not noticing that he is leaning against a police car. Too focused and obsessed to listen to the officers, he gets handcuffed, but not before he hears Gustav has invited Zelda to lunch to meet his new fiancé. Zelda rescues Andrew, calling in a favor to get him released. She later explains to him that, while growing up, her only role models were her parents, who were anything but a happily married couple. Still, she understands Andrew's belief in marriage and is less cynical now.
References to Alice in Wonderland
The line going down the rabbit hole is heard two times in the episode.
Sources
Ad blocker interference detected!
Wikia is a free-to-use site that makes money from advertising. We have a modified experience for viewers using ad blockers

Wikia is not accessible if you've made further modifications. Remove the custom ad blocker rule(s) and the page will load as expected.