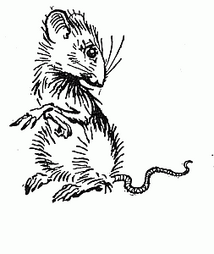 The
Dormouse
is a character in "A Mad Tea-Party", Chapter VII
from
Alice's Adventures in Wonderland
by
Lewis Carroll
.
History
The Dormouse sat between the March Hare and the Hatter. They were using him, while he slept, as a cushion when Alice arrives at the start of the chapter.
The Dormouse is always falling asleep during the scene, waking up every so often, for example to say: `You might just as well say,' added the Dormouse, who seemed to be talking in his sleep, `that "I breathe when I sleep" is the same thing as "I sleep when I breathe"!' He also tells a story about three young girls who live in a treacle well, live on treacle, and draw pictures of things beginning with M, including mousetraps, memory and muchness.
Eventually the Hatter and the March Hare put his head in a teapot. He later appears, equally sleepy, at the Knave of Hearts' trial and voices resentment at Alice for growing, and his last interaction with any character is his being "suppressed" (amongst other things) by the Queen for shouting out that tarts are made of treacle.
In other media
The Dormouse appears in Dreamchild performed by Karen Prell and voiced by Julie Walters.
The Dormouse makes an appearance in American McGee's Alice, where he and the March Hare are held captive as the Mad Hatter's experiments. He is tied to a dissection table and continues to fall asleep from the Hatter's medicines. The Dormouse also appears in the 2011 game Alice: Madness Returns, where he captures a part of the Mad Hatter as revenge for the events in American McGee's.
The Dormouse appears again in Alice: Madness Returns. This time, it is the Hatter who is the victim of the March Hare and the Dormouse.
In the SyFy TV Miniseries Alice, the Dormouse is a sidekick of the Hatter.
Mallymkun appears in the video game adaption of Tim Burton's Alice in Wonderland as a playable character.
The Dormouse appears as a member of the Mad T Party band at Disneyland's California Adventure Park. In the Mad T Party he is interpreted as a boy rather than Mallymkun who he is based off of. He plays lead guitar and often scurries around with the March Hare on stage.