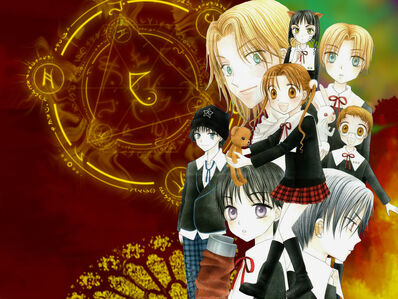 Gakuen Alice
(学園アリス Gakuen Arisu)
, also known as
Alice Academy
or
Alice School
, is a Japanese manga series written and illustrated by Tachibana Higuchi, currently being serialized in the shōjo manga magazine
Hana to Yume
. It was adapted into an anime series produced by Aniplex and Group TAC which originally premiered on NHK BS-2. It spanned twenty-six episodes, between October 30, 2004, and May 14, 2005. The anime was translated and dubbed into English by the anime television network Animax and broadcast on networks throughout Asia. At Anime Expo 2008, The Right Stuf International announced that its Nozomi Entertainment division had licensed
Gakuen Alice
for the North American market.
Plot
Mikan Sakura grew up with her grandfather on the countryside of Japan. When her best friend, Hotaru, transfers to a prestigious school in Tokyo, Mikan follows her. The school is actually an elite Academy for gifted people with "Alices," an ability that is unique depending on the individual being. Once Mikan arrives to the gates of the school, she encounters an Alice teacher named Narumi, gets enrolled due to a series of events, and is told that she possesses a rare Alice. Despite her initial view of the so-called greatness to the school, Mikan slowly discovers that beneath the grand facade of the Academy, there is a never-ending stream of lies and buried secrets. The school's increasingly manipulative and sinister actions towards her make it a dangerous place to be. Little does Mikan know that her enrollment in Alice Academy set the gears in motion to an even greater tragedy.
Setting
The Gakuen Alice is located somewhere in Tokyo, across from a huge gorilla billboard in the anime. The school grounds contain three levels of education (elementary through senior high), dormitories for the different sections, a hospital, the main building, and the central town, where shops managed by Alice-bearing artisans sell goods produced with the help of their Alices.
Four forests surround the grounds. The Northern Woods are the most visited and is home to "Mr. Bear," an animated doll made by Kaname Sono's Creation Alice at the school.
In the anime, the Academy has its own monetary system, the Rabbit (Rt), with one Rabbit equivalent to 100 yen. However, in the manga, the Academy uses yen as their primary currency.
Due to constant threat by kidnappers and slave traders, vocal and written communication is limited to within the Academy. The grounds are closely guarded, and heavy security and electrified fences deter students from attempting to leave. The Academy is also guarded by a strong barrier cast by the Middle School Principal as the possessor of a tremendously powerful Barrier Alice.
High-scoring students in the Final Examinations receive perks such as free meal tickets, certifications, and money. These high-scoring students also qualify for a chance to receive the "Best Student Award," which allows the students to be permitted a week-long leave to go home to be with family.
Sources
Ad blocker interference detected!
Wikia is a free-to-use site that makes money from advertising. We have a modified experience for viewers using ad blockers

Wikia is not accessible if you've made further modifications. Remove the custom ad blocker rule(s) and the page will load as expected.