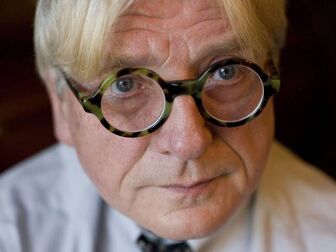 Gilbert Adair
(29 December 1944 – 8 December 2011) was a Scottish novelist, poet, film critic and journalist.He was critically most famous for the "fiendish" translation of Georges Perec's postmodern novel
A Void
, in which the letter
e
is not used, but was more widely known for the films adapted from his novels, including
Love and Death on Long Island
(1997) and
The Dreamers
(2003)
Bibliography
Fiction
Alice through the Needle's Eye (1984)
Peter Pan and the Only Children (1987)
The Holy Innocents (1988) – winner of the Author's Club First Novel Award
Love and Death on Long Island (1990)
The Death of the Author (1992) – a black satire of contemporary theoretical cultishness and a metaphysical murder mystery
The Key of the Tower (1997)
A Closed Book (1999) – a literary thriller about a prize-winning novelist left blind after a serious car accident.
The Dreamers (2003) – a tale of sexual obsession set against the backdrop of the Paris street riots of 1968
Buenas Noches, Buenos Aires (2003) – the story of Gideon, a young Englishman in 1980s Paris, on the verge of sexual discovery
The Act of Roger Murgatroyd (2006) – a murder mystery set in the 1930s on Dartmoor, first in the Evadne Mount trilogy
A Mysterious Affair of Style (2007) – second in the Evadne Mount trilogy
And Then There Was No One (2009) – third in the Evadne Mount trilogy
Non-fiction
A Night at the Pictures (with Nick Roddick) (1985)
Myths & Memories (1986)
Hollywood's Vietnam (1981)
The Postmodernist Always Rings Twice (1992)
Wonder Tales: Six French Stories of Enchantment (editor with Marina Warner) (1995)
Flickers: An Illustrated Celebration of 100 Years of Cinema (1995)
Surfing the Zeitgeist (1997)
Movies (editor) (1999)
The Real Tadzio (2001) – a biography of the boy (Baron Władysław Moes) who inspired Thomas Mann's Death in Venice.
Translations
Letters by François Truffaut (1990) (also editor)
A Void by Georges Perec (1994) — winner of the Scott Moncrieff Translation Prize
Zazie in the Metro by Raymond Queneau (2000) (introduction)
Sources
Ad blocker interference detected!
Wikia is a free-to-use site that makes money from advertising. We have a modified experience for viewers using ad blockers

Wikia is not accessible if you've made further modifications. Remove the custom ad blocker rule(s) and the page will load as expected.