"
Insanity is not a plea, it's a way of life.
"

— Harry Hunt.
Harry Hunt is a character seen in Malice in Wonderland.
Movie Story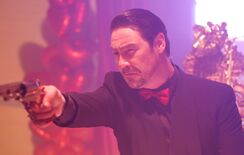 Harry is seen nearly at the end of the film.  Harry had asked for Gonzo to bring Alice and he did. Alice is told by Harry to sit beside him.
Alice
and Harry then speaks. Alice asks to go to the bar and Harry allows her. Harry then appoints Rex to follow her.
Whitey then arrives with his present. He is very pleased with his present. Later, Gonzo is killed by Harry and Alice is put to trial. Alice manages to esape but Whitey is killed in the process.
Relationships
Trivia
Etymology
In English, the name Harry means- from the name harold. Other origins for the name Harry include - English, German.The name Harry is most often used as a boy name or male name.
Film Portrayal
Nathaniel Parker portrayed Harry.
Gallery
Ad blocker interference detected!
Wikia is a free-to-use site that makes money from advertising. We have a modified experience for viewers using ad blockers

Wikia is not accessible if you've made further modifications. Remove the custom ad blocker rule(s) and the page will load as expected.