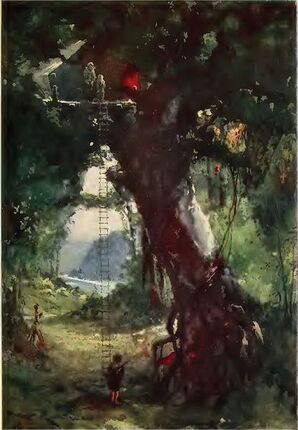 Harry Rountree
(1878–1950) was a prolific illustrator working in England around the turn of the 19/20th centuries. He came from New Zealand in 1901 to London, when he was 23 years old.
Harry Rountree was determined to make his mark on the then-flourishing magazine and book market. For two years he struggled, studied and sold the occasional drawing. However, when the editor of Little Folks magazine gave him a commission to illustrate a story with an animal, he found his feet and suddenly he became quite successful. By 1903 he was illustrating books for the editor of Little Folks, writing and illustrating his own books, and in demand by nearly every publisher in London. He was one of the subjects in Percy V. Bradshaws' "The Art of the Illustrator" 20 part series, published in 1918, where six stages of the creation of an illustration were published along with notes and biography.
Rountree is also noted for his illustrations of British Golf Courses & golfing caricatures.
During the First World War, he served as a captain in the Royal Engineers.
Sources
Ad blocker interference detected!
Wikia is a free-to-use site that makes money from advertising. We have a modified experience for viewers using ad blockers

Wikia is not accessible if you've made further modifications. Remove the custom ad blocker rule(s) and the page will load as expected.