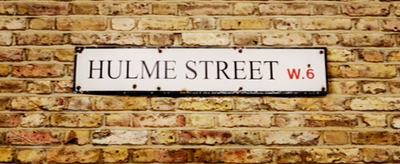 Hulme Street
is a location of the 
Malice in Wonderland
film.
Description
Hulme is the name of a street in London.
Malice in Wonderland
Alice asks the bag lady if she knows where Hulme Street is, she responds by saying that she once know someone who lived there.
Later, Alice is taken to Hulme Street by Whitey. She meets Mrs. Jones and she tells her about her origins and who her mother is.
Gallery
Ad blocker interference detected!
Wikia is a free-to-use site that makes money from advertising. We have a modified experience for viewers using ad blockers

Wikia is not accessible if you've made further modifications. Remove the custom ad blocker rule(s) and the page will load as expected.