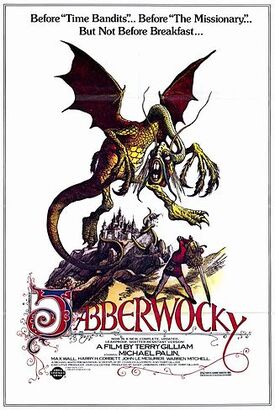 Jabberwocky
is a 1977 British fantasy film co-written and directed by Terry Gilliam. It stars Michael Palin as a young cooper who is forced through clumsy, often slapstick misfortunes to hunt a terrible dragon after the death of his father. The name is taken from the nonsense poem "Jabberwocky" in Lewis Carroll's
Through the Looking-Glass
(1871).
Plot Summary
After the death of his father the young cooper 'Dennis Cooper' goes to town where he has to pass several adventures. The town and the whole kingdom is threatened by a terrible monster. Will Dennis make his fortune? Is anyone brave enough to defeat the monster? A medieval tale with Pythonesque humour.
Trivia
Originally erroneously promoted and released in some countries as "Monty Python's Jabberwocky" against the wishes of Terry Gilliam. Threats of legal action resulted in the Python reference being removed from the title on all subsequent reissues.
To lend a more realistic bird-like look to the Jabberwock's leg movements, the monster costume was designed so that actor Peter Salmon had to wear it backwards. The fight between the Jabberwock and the Black Knight was choreographed differently than what we see, but Salmon slipped and fell, and director Terry Gilliam decided this looked so natural that he edited the fight sequence to include the fall.
Ad blocker interference detected!
Wikia is a free-to-use site that makes money from advertising. We have a modified experience for viewers using ad blockers

Wikia is not accessible if you've made further modifications. Remove the custom ad blocker rule(s) and the page will load as expected.