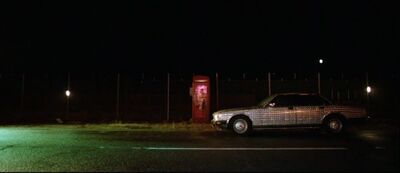 The
Jaguar XJ (XJ40)
is a luxury sedan manufactured by Jaguar Cars between 1986 and 1994. Officially unveiled on 8 October 1986 it was an all-new redesign of the XJ to replace the Series III, although the two model ranges were sold concurrently until the Series III was discontinued in 1992. The XJ40 used the Jaguar independent rear suspension arrangement, and featured a number of technological enhancements (such as electronic instrumentation).
The 1993 XJ6 earned the title of "Safest Car in Britain" as the result of a government survey.When the XJ40 was discontinued in 1994, it was followed by the X300 platform XJ.
XJ6
The base XJ6 of the model range was modestly equipped; extra-cost options included alloy wheels, anti-lock brakes, air conditioning, leather upholstery, and an automatic transmission. The exterior featured two pairs of circular headlamps and black powder-coated window frames.
Movie Story
This  vehicle belongs to the caterpillar.
Sources
Ad blocker interference detected!
Wikia is a free-to-use site that makes money from advertising. We have a modified experience for viewers using ad blockers

Wikia is not accessible if you've made further modifications. Remove the custom ad blocker rule(s) and the page will load as expected.