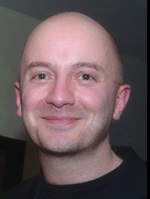 Jayson Rothwell
is the writter of
Malice in Wonderland
.
Biography
ayson's birth was delayed while his mother finished watching King Kong on TV. Maybe this is where his movie fixation comes from.
Whilst shooting a commercial at Shepperton Studios in London, he wandered onto the set of Interview With A Vampire and realised people sat down to write movies just as he sat down to write commercials.
Rothwell has since written 15 screenplays, four of which have been produced. Three more are slated to begin filming later this year (2006).
Jayson has also worked on several films as an uncredited dialogue polisher.
Perfect 10 is his feature debut as a director after 9 years of shooting commercials. The main character is a composite of many friends with OCD, although the door closing is definitely his own obsessive compulsive disorder.
Jayson is married and has three children. He lives in an old haunted house in the North of England. He collects graphic art and is negotiating with the Russian government to lead a search for the Soviet bigfoot creature.
Ad blocker interference detected!
Wikia is a free-to-use site that makes money from advertising. We have a modified experience for viewers using ad blockers

Wikia is not accessible if you've made further modifications. Remove the custom ad blocker rule(s) and the page will load as expected.