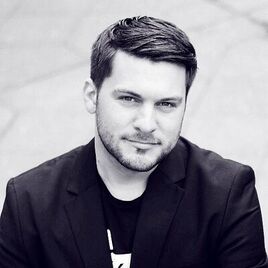 Joe Henson
is a composer. He composed the music for the
film
.
Biography
Born in London in 1973, Joe started his musical career at the age of 14 as a bass player. His primary inspiration was seeing the mighty Larry Graham thundering away behind Sly & The Family Stone on the film of "Woodstock", and so began years of bleeding fingers and eight hour practice sessions on an unplayable Westone bass. The hard work paid off he finally got a proper bass, and subsequently recorded, with, amongst others, The Freestylers (with whom he mastered the art of keeping a rock steady beat whilst leaping several feet in the air), Dot Allison and Day One. He's toured Europe and the United States extensively, appearing on programmes as diverse as Top Of The Pops and The Jay Leno Show. While in the Freestylers Joe spent four years on the festival circuit crowds of up to 23,000. The last appearance of the original Freestylers band at Glastonbury is now stuff of legend.
As well as touring, Joe also established himself as a sought after session player, and his distinctive style led to his being profiled by Bass Magazine's Derek Smalls. Examples of his skill and versatility can be found on recordings by Plump DJs, LTJ Bukem, Full Intention, Lovestation, and Orbital, and also in original TV and film music including, Spy Game, Crime Spree, Biggie & Tupac, the 25th anniversary remixes of Grease, Two Pints of Lager And A Packet of Crisps, BBC Snooker, Top Gear and Brain Story.
Joe is currently writing and performing with his London based hip-hop band, Seventhsun, whose debut album was released in the Summer of 2007. A cut from the album is included in the original soundtrack of the Warner Brothers movie Chasing Liberty.
Joe's collaborative nature, compositional flair, and state-of-the-art programming, production and sound design talents have placed him solidly in demand for projects requiring an original and modern approach to music & sound.
Selected Filmography
It's a Boy Girl Thing (2006)
Malice in Wonderland (2009)
Trivia
Brother of composer Christian Henson.

Son of actor Nicky Henson.

Son of actress Una Stubbs.
Ad blocker interference detected!
Wikia is a free-to-use site that makes money from advertising. We have a modified experience for viewers using ad blockers

Wikia is not accessible if you've made further modifications. Remove the custom ad blocker rule(s) and the page will load as expected.