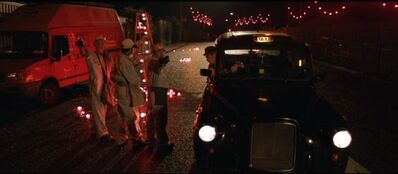 The
LDV Convoy
is a panel van that was manufactured by LDV Limited between 1997 and 2006.
The Convoy was a development of the Leyland DAF 400 Series, which in turn was based on the Freight Rover 300 Series. The Convoy and its predecessors were the larger versions of the LDV Pilot (and its predecessors), all of which were based on the Leyland Sherpa series of vans that was first developed in 1974, sharing some components with even earlier models.
LDV Convoy (1993–2006)
Following the sell-off of the van business from the insolvent Leyland DAF in 1993, LDV Limited was formed. The newly independent company renamed the 400 van the Convoy.
The Convoy was available in 2.8 tonne, 3.1 tonne and 3.5 tonne variants with load volume capacities up to 12.9 cubic metres. The van would become hugely popular as a minibus and would come in pick-up and fleet based vans.
By the mid-2000s however, it was clear that the platform (which harked back to 1974) had run its course and was now terminally dated in comparison to the competition (by way of comparison, its main rival - the Ford Transit, had had two complete redesigns launched within the lifetime of the entire Sherpa/Freight Rover/Pilot/Convoy series), the van's key selling point for operators such as the Royal Mail (who had operated large fleets since the original Sherpa version), and local authorities had been its narrower track compared to the Transit, enabling it to negotiate tight alleyways and country lanes. The last Convoy was built in 2006, succeeded by the Maxus.
Movie Story
The vehicle is seen as Whitey speaks to the men who were painting the town red.
Sources
Ad blocker interference detected!
Wikia is a free-to-use site that makes money from advertising. We have a modified experience for viewers using ad blockers

Wikia is not accessible if you've made further modifications. Remove the custom ad blocker rule(s) and the page will load as expected.