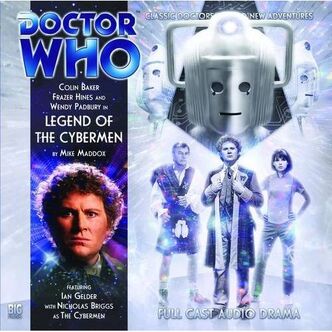 Legend of the Cybermen
is a Big Finish Productions audio drama based on the long-running British science fiction television series
Doctor Who
. It takes place after
The Mind Robber
and
The Wreck of the Titan (audio drama)
.
Plot
The Doctor and Jamie are reunited with Zoe, as the Cybermen attempt to conquer The Land of Fiction.
Cast
The Doctor - Colin Baker
Jamie McCrimmon - Frazer Hines
Zoe Heriot - Wendy Padbury
Artful Dodger/Little Lord Fauntleroy - Steve Kynman
Alice Liddell - Abigail Hollick
Count Dracula/Long John Silver - Ian Gelder
Rob Roy MacGregor - Charlie Ross
Captain Nemo - Alexander Siddig
The Cybermen/The Karkus/Himself - Nicholas Briggs
Sources
Ad blocker interference detected!
Wikia is a free-to-use site that makes money from advertising. We have a modified experience for viewers using ad blockers

Wikia is not accessible if you've made further modifications. Remove the custom ad blocker rule(s) and the page will load as expected.