Looking-Glass Land
is the setting for Lewis Carroll's 1871 children's novel
Through the Looking-Glass
.
Geography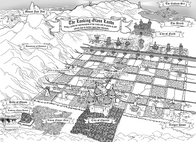 The entire country is divided into squares by a series of little brooks with hedges growing perpendicular to them.
Government
The land is contested by two competing factions, the Reds and the Whites. Each side has its King and Queen, bishops, knights, armies, and castles.
Inhabitants
Sources
Ad blocker interference detected!
Wikia is a free-to-use site that makes money from advertising. We have a modified experience for viewers using ad blockers

Wikia is not accessible if you've made further modifications. Remove the custom ad blocker rule(s) and the page will load as expected.