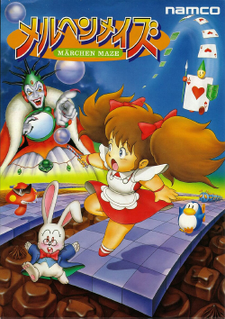 Märchen Maze is a platform and shoot 'em up arcade game that was released by Namco in 1988 only in Japan. It runs on Namco System 1 hardware, and was later ported to the X68000 and PC Engine platforms, as well as released for Virtual Console.
Gameplay
The player must take control of Alice, as she makes her way through nine isometric stages. Alice is able to blow bubbles at enemies to knock them off the platforms and she can collect various powerups along the way. Holding the fire button down generates bigger bubbles, but if it is held down for too long, it will burst and she will start blowing a new one. The enemies retaliate by shooting marbles at her (which can cause her to fall over the edge of the platforms unless they are avoided or jumped over). The seventh, eighth and ninth stages are palette-swapped versions of the second, fourth and first ones respectively, but they feature different enemy types and bosses.
Sources
Ad blocker interference detected!
Wikia is a free-to-use site that makes money from advertising. We have a modified experience for viewers using ad blockers

Wikia is not accessible if you've made further modifications. Remove the custom ad blocker rule(s) and the page will load as expected.