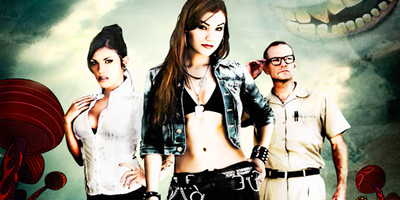 Malice in Lalaland is an American porn road movie that was released in 2010 by the Belgian label Miss Lucifer in the distribution of Vivid Entertainment. Directed by Lew Xypher.
Plot
Malice escapes with the help of Rabbit, a midget in a bunny costume, from an institution. Their leader, Dr. Queenie, the employee Jabbowski charged with the persecution.
Jabbowski tracked Malice to an abandoned gas station where she is hiding. When he tried to enter the building, the owner comes back, and threatened him with a gun. While the gas station owner in the car having sex with his girlfriend, Malice can escape.
She meets a man named Chester Catz, who helps her escape and sleeps with her. The two visit one of his friends, Cater Pillz, who runs a strip bar. Then they take part in an orgy. Jabbowski follows the trail of the two, Pillz is looking up and shoot them. He finds Catz on the orgy and also shoots at him. However Catz wearing a mask, which saves his life. Malice escapes again.
It is driven by a group of amateur porn filmmakers. Malice agrees to start working as a camerawoman with filming. During this filming of the armed Jabbowski and Dr. Queenie appear. Suddenly Rabbit appears and is shot by Jabbowski. Malice can not escape now and is brought back to the asylum.
Background
The plot of the film is based on Lewis Carroll's book Alice in Wonderland, to the title of a clear reference. The names and roles of many minor characters are similar to those in Carroll's book, correspond to about Chester Catz and Cater Pillz of the Cheshire Cat and the Caterpillar (Caterpillar), the orgy is organized by a man named Matt Hatter and corresponds to the Tea Party Hatter (Mad Hatter) . Malice in Lalaland was shot on 35mm film.
Most sex scenes are accompanied by music of the Belgian Southern rock band Aguardente.
Ad blocker interference detected!
Wikia is a free-to-use site that makes money from advertising. We have a modified experience for viewers using ad blockers

Wikia is not accessible if you've made further modifications. Remove the custom ad blocker rule(s) and the page will load as expected.