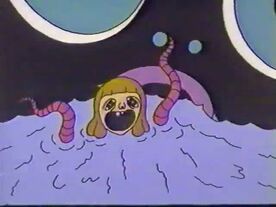 Malice in Wonderland
is an American independent animation short film directed by Vince Collins, and with graphic design by Miwako. It is loosely based on Lewis Carroll's
Alice in Wonderland
, displaying surreal images and an aggressive animation style. It is 4 minutes long.
Plot
A jet-propelled white rabbit flies through the vulva of a supine woman into a wonderland where people and objects turn inside out, changing shapes and identities at warp speed. Events roughly follow Lewis Carroll's Alice in Wonderland. The Caterpillar, the Cheshire Cat, the Mad Hatter, and the Queen of Hearts make appearances, as does Alice. Images and symbols are often sexual. At the end, Alice says, "Oh, I've had such a curious dream."
Gallery
Ad blocker interference detected!
Wikia is a free-to-use site that makes money from advertising. We have a modified experience for viewers using ad blockers

Wikia is not accessible if you've made further modifications. Remove the custom ad blocker rule(s) and the page will load as expected.