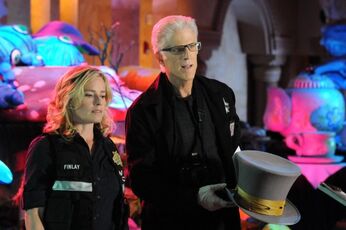 Malice in Wonderland
is the eighteenth episode of the twelfth season of
CSI: Crime Scene Investigation
.
Synopsis
A robbery at an Alice in Wonderland-themed wedding becomes the first in a series of unpredictable and unexplicable robberies targeted at wedding ceremonies.
Cast
Main Cast
Ted Danson as D.B. Russell
Elisabeth Shue as Julie Finlay
George Eads as Nick Stokes
Paul Guilfoyle as Jim Brass
Jorja Fox as Sara Sidle
Eric Szmanda as Greg Sanders
Robert David Hall as Dr. Al Robbins
David Berman as David Phillips
Wallace Langham as David Hodges
Elisabeth Harnois as Morgan Brody
Guest Stars
Sheeri Rappaport as Mandy Webster
Sam Harris as Alan Wilson
Amanda Jane Cooper as Lisa Cravitz
Cameron Richardson as Emily Hartley
Pedro Pascal as Kyle Hartley
Jeffrey D. Stevens as Paramedic Jeff
Peter Jason as Walter Gersh
Nadia Bjorlin as Crystal Hasselbeck
Christopher Knight as Pastor
Jaclyn Smith as Olivia Hodges
Evan Parke as Eli
Sara Van Horn as Nana of the Bride
Sources
Ad blocker interference detected!
Wikia is a free-to-use site that makes money from advertising. We have a modified experience for viewers using ad blockers

Wikia is not accessible if you've made further modifications. Remove the custom ad blocker rule(s) and the page will load as expected.