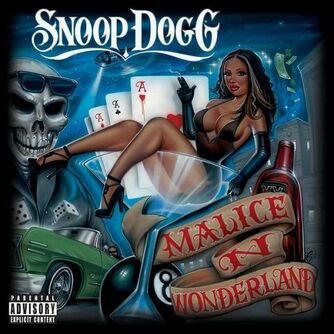 Malice n Wonderland
is the tenth studio album by American rapper Snoop Dogg, released December 8, 2009 on Doggystyle and Priority Records. Production for the album took place from January until September 2009 at several recording studios and the production was handled by Battlecat, The-Dream, Tricky Stewart, The Neptunes, Teddy Riley, Lil Jon, and Terrace Martin.
The album debuted at number twenty three on the US Billboard 200 chart, selling 59,000 copies in its first week. Upon its release, Malice n Wonderland received generally mixed reviews from music critics.
Background
The album was originally planned to be released through a distribution deal with MTV after his departure with Interscope Records.In mid 2009, Priority Records announced that Snoop Dogg was appointed creative chairman of Priority Records and the label also announced plans to release his tenth studio album on the label.
The album consists of fourteen tracks and features production from Teddy Riley, Nottz, The Neptunes, The-Dream, and Terrace Martin.Guest features include R. Kelly, Soulja Boy Tell 'Em, and Brandy. Doggystyle Records president and Snoopadelic Films president Ted Chung, Snoop shooting a mini-movie to accompany the album (similar to his 1994 short film/soundtrack Murder Was the Case), portraying him as a "super gangster"
Promotion
Snoop Dogg hosted WWE Raw on October 19, 2009 to promote Malice n Wonderland.
Tracklist
Intro (Malice N Wonderland)
I Wanna Rock
2 Minute Warning
1800
Different Languages
Gangsta Luv
Pronto
That's Tha Homie
Upside Down
Secrets
Pimpin Ain't EZ
Luv Drunk
Special
Outro (Malice N Wonderland)
Sources
Ad blocker interference detected!
Wikia is a free-to-use site that makes money from advertising. We have a modified experience for viewers using ad blockers

Wikia is not accessible if you've made further modifications. Remove the custom ad blocker rule(s) and the page will load as expected.