Midge is a character seen in Malice in Wonderland.
Movie Story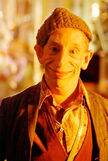 Midge is seen searching Whitey's
car
for valuable items. He then steals Alice's purse and runs away. He gives the money that was in Alice's purse to Gonzo. He is then appointede by Gonzo to find Alice's memory.
Later, Midge is seen with a red light buld, he is outside of Doochey Mansion, by the maze. He runs into the maze and isn't seen until Alice enters Hattie's.
Relationships
He is a friend of Hattie.
Quotes
Main article: Midge/Quotes.
Trivia
Film Portrayal
Steve Haze portrays Midge.
Gallery
Ad blocker interference detected!
Wikia is a free-to-use site that makes money from advertising. We have a modified experience for viewers using ad blockers

Wikia is not accessible if you've made further modifications. Remove the custom ad blocker rule(s) and the page will load as expected.