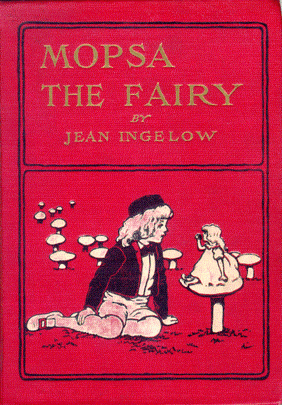 Jean Ingelow became one of the most famous poets of her period, and though she is now remembered in this way by only a few poems in anthologies, many people suggested that when Tennyson died, she should succeed him as Poet Laureate. Nevertheless, she is now remembered best by one book, her strange and haunting fantasy for children, Mopsa the Fairy (1869). She wrote several other books for adults, but Mopsa the Fairy has always held a place apart, which Charlotte M. Yonge ranked with Alice in Wonderland. --From the Introduction to the original Lippincott edition.
Mopsa the Fairy is a marvelous fantasy, and greatly deserving of more currency among the children of the 21st century. Like George McDonald's At the Back of the North Wind, The Princess and the Goblins, The Princess and Curdy, and Charles Kingsley's The Water Babies, it represents a moving characterization of both the cruelties and the absurdities of human culture toward the natural world and toward other beings, both human and animal.
Ad blocker interference detected!
Wikia is a free-to-use site that makes money from advertising. We have a modified experience for viewers using ad blockers

Wikia is not accessible if you've made further modifications. Remove the custom ad blocker rule(s) and the page will load as expected.