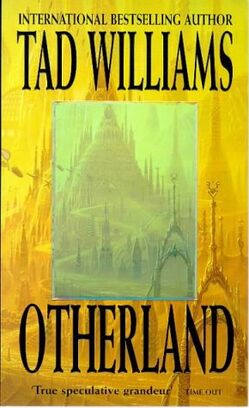 Otherland
is a science fiction tetralogy written by Tad Williams and published between 1996 and 2001. The story is set on Earth near the end of the 21st century, probably between 2082 and 2089 (one of the characters mentions being born in the early 30's, having a kid in her forties, and the story is set slightly more than twelve years after that), in a world in which technology has advanced somewhat beyond the present. The most notable advancement is the widespread availability of full-immersion virtual reality installations, which allow people from all walks of life to access an online world, called simply the Net. Tad Williams weaves an intricate plot spanning four thick volumes and creates a picture of a future society where virtual worlds are fully integrated into everyday life.
His proposed ability to immerse oneself fully in a simulation gives him a great deal of artistic freedom, and the story winds through alternate interpretations of many classical literary works such as Through the Looking-Glass, The Odyssey and The Iliad, The War of the Worlds, and The Wizard of Oz, which are available as entertainment simulations within the series. According to Orlando Gardiner, one of the main characters in the books who spent most of his teenage years in this world's equivalent to MMORPGs based upon J. R. R. Tolkien's fiction, the overall series's events also bear a strong resemblance to The Lord of the Rings.
Sources
Ad blocker interference detected!
Wikia is a free-to-use site that makes money from advertising. We have a modified experience for viewers using ad blockers

Wikia is not accessible if you've made further modifications. Remove the custom ad blocker rule(s) and the page will load as expected.