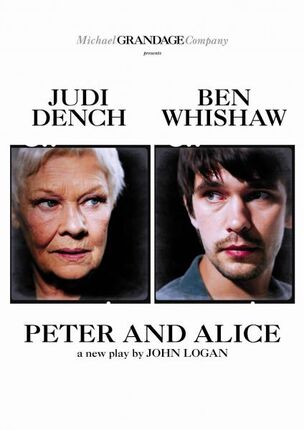 Peter and Alice
is a play by American writer John Logan based on the meeting of 80-year-old Alice Liddell Hargreaves and Peter Llewelyn Davies, then in his thirties, in a London bookshop in 1932, at the opening of a
Lewis Carroll exhibition
. The production was directed by Michael Grandage and was performed by Judi Dench as Alice and Ben Whishaw as Peter.
Summary
The play is based on a meeting between Alice Liddell Hargreaves and Peter Llewellyn Davies at the opening of a Lewis Carroll exhibition in 1932, the original Alice in Wonderland come face to face with the original Peter Pan. The play sees enchantment and reality collide as this brief encounter lays bare the lives of these two characters.
Cast
Ben Whishaw as Peter Llewelyn Davies
Judi Dench as Alice Liddell Hargreaves
Nicholas Farrell as Lewis Carroll
Derek Riddell as J.M. Barrie
Olly Alexander as Peter Pan
Ruby Bentall as Alice in Wonderland
Stefano Braschi as Arthur Llewelyn Davies / Reginald Hargreaves / Michael Llewelyn Davies
Understudies include Stefano Braschi for Peter Llewelyn Davies; Georgina Beedle for Alice in Wonderland; Henry Everett for both Lewis Carroll and J.M. Barrie; Christoper Leveaux for Peter Pan, Arthur Llewelyn Davies, Reginald Hargreaves and Michael Llewelyn Davies; and Pamela Merrick for Alice Liddell Hargreaves.
Sources
Gallery
Ad blocker interference detected!
Wikia is a free-to-use site that makes money from advertising. We have a modified experience for viewers using ad blockers

Wikia is not accessible if you've made further modifications. Remove the custom ad blocker rule(s) and the page will load as expected.