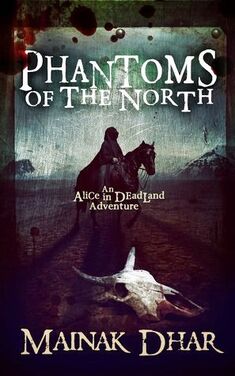 Phantoms of the North is the sixth book in the Alice in Deadland series. It is written by Mainak Dhar.
Synopsis
Six months have passed since the events depicted in Hunting The Snark. The tyrants of the Executive Committee have been routed and under Alice's leadership, humans and Biters of Wonderland know a peace unlike any they have known.
Alice and her friends have begun liberating humans in the wastelands beyond their city from the clutches of warlords and bandits. Farms are set up to feed the expanding population of Wonderland and people begin settling these areas.
This brings them face to face with a new terror. A terror that comes out of its lair in the remote mountains, riding out on horses, leaving slaughter and destruction in its wake. This terror is the horde of the Phantoms of the North, and Alice must defeat it if she is to save Wonderland.
Sources
Ad blocker interference detected!
Wikia is a free-to-use site that makes money from advertising. We have a modified experience for viewers using ad blockers

Wikia is not accessible if you've made further modifications. Remove the custom ad blocker rule(s) and the page will load as expected.