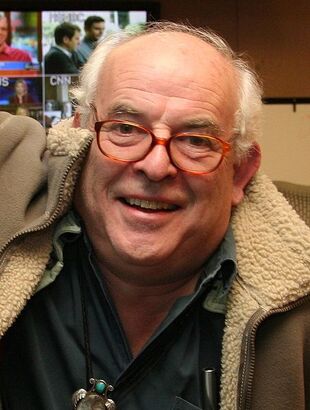 Ralph Steadman
(born 15 May 1936) is a British cartoonist best known for his work with American author Hunter S. Thompson.
Steadman was born in Wallasey, Cheshire, and brought up in Abergele, North Wales. From a lower middle class background, his father was a commercial traveller and his mother was a shop assistant at T J Hughes in Liverpool.He attended Ysgol Emrys Ap Iwan (high school),and then later East Ham Technical College and the London College of Printing during the 1960s, doing freelance work for Punch, Private Eye, the Daily Telegraph, The New York Times and Rolling Stone during this time.
Steadman currently lives with his wife in Kent, England.
Sources
Ad blocker interference detected!
Wikia is a free-to-use site that makes money from advertising. We have a modified experience for viewers using ad blockers

Wikia is not accessible if you've made further modifications. Remove the custom ad blocker rule(s) and the page will load as expected.