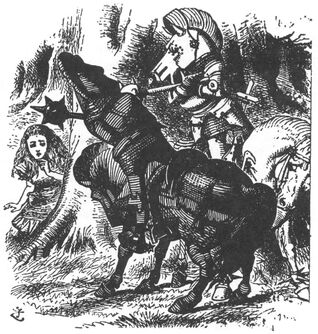 The Knight comes across Alice while riding through a wood at the start of chapter VIII. He attempts to capture her for the Red side, but then the White Knight suddenly appears and exclaims that he has rescued her. They decide to fight over her, in the manner according to Looking-Glass Land's bizarre "Rules of Battle." Among these rules are: (1) "if one Knight hits the other, he knocks him off his horse, and if he misses, he tumbles off himself," (2) both combatants must "hold their clubs with their arms, as if they were Punch and Judy," and (3) both combatants must always fall on their heads. The contests ends when both knights fall from their horses and the White is inexplicably decided the victor. They shake hands and then the Red mounts and gallops away. He is the kings knight.
Ad blocker interference detected!
Wikia is a free-to-use site that makes money from advertising. We have a modified experience for viewers using ad blockers

Wikia is not accessible if you've made further modifications. Remove the custom ad blocker rule(s) and the page will load as expected.