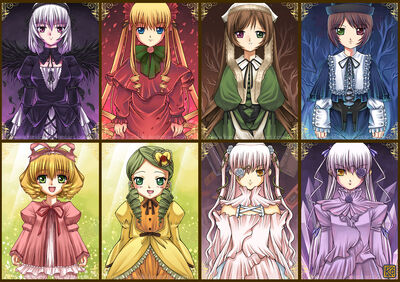 Rozen Maiden
is a manga series written and illustrated by Peach-Pit. It was serialized in
Monthly Comic Birz
between the September 2002 and July 2007 issues. The individual chapters were collected and released into eight
tankōbon
volumes by Gentosha. The eight volumes were localized to North America by Tokyopop between March 2003 and June 2007. The story follows Jun Sakurada, a middle school student who withdrew from society after suffering persecutions from his classmates. Following his withdrawal, he is chosen to become the master to a Rozen Maiden named Shinku. Rozen Maidens are seven sentient bisque dolls who compete against each other to become a perfect doll dubbed as Alice.
Rozen Maiden received a sequel under the series' katakana title. It was serialized in Shueisha's Weekly Young Jump between April 2008 and January 2014. Rozen Maiden has spun off anthology manga and novel stories, art books, and four anime series; the four anime series are titled Rozen Maiden, Rozen Maiden: Träumend, Rozen Maiden: Ouvertüre, and Rozen Maiden: Zurückspulen. Tokyo Broadcasting System were the producers for the anime with Nomad as the animation studio for the first three series and Studio Deen for Zurückspulen. The anime adaptions resulted in several audio disc releases and three video games.
In 2007, Geneon Entertainment USA licensed the first two anime series for North American release and had later signed Funimation on as a distributor, after shutting down in September 2007. In 2011, Sentai Filmworks acquired both seasons as well as the third series; they made the three series available for streaming on Anime Network. Crunchyroll later acquired streaming rights to the first two series. For the fourth series, Sentai Filmworks had acquired the license for digital and home video release, while Crunchyroll acquired streaming rights.
Tokyopop's volumes of Rozen Maiden have appeared on ICv2's monthly top one-hundred selling graphic novels. Reviews towards the manga were generally positive with reviewers praising balance in drama and comedy. For the anime, reception towards the first series was mixed while Träumend was mostly negative.
Rozen Maiden
Ad blocker interference detected!
Wikia is a free-to-use site that makes money from advertising. We have a modified experience for viewers using ad blockers

Wikia is not accessible if you've made further modifications. Remove the custom ad blocker rule(s) and the page will load as expected.