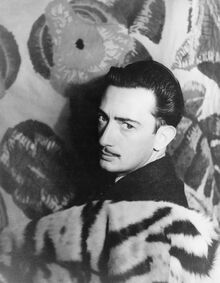 Salvador Domingo Felipe Jacinto Dalí i Domènech, 1st Marqués de Dalí de Pubol
(May 11, 1904 – January 23, 1989), known as
Salvador Dalí
(Catalan pronunciation: [səɫβəˈðo ðəˈɫi]), was a prominent Spanish surrealist painter born in Figueres, in the Catalonia region of Spain.
Selected Works
916 Fiesta in Figueras (begun 1914)
1917 View of Cadaqués with Shadow of Mount Pani
1918 Crepuscular Old Man (begun 1917)
1919 Port of Cadaqués (Night) (begun 1918) and Self-portrait in the Studio
1920 The Artist's Father at Llane Beach and View of Portdogué (Port Aluger)
1921 The Garden of Llaner (Cadaqués) (begun 1920) and Self-portrait
1925 Large Harlequin and Small Bottle of Rum and a series of fine portraits of his sister Anna Maria, most notably Figure at a Window
1956 Still Life Moving Fast, Rinoceronte vestido con puntillas
Sources
Ad blocker interference detected!
Wikia is a free-to-use site that makes money from advertising. We have a modified experience for viewers using ad blockers

Wikia is not accessible if you've made further modifications. Remove the custom ad blocker rule(s) and the page will load as expected.